Multiple deaths and injuries have been reported after a structure collapsed at a high school in Vanderbijlpark on Friday morning, according to Netcare911 media liaison officer Shawn Herbst.
According to eNCA, the carnage took place at Hoërskool Driehoek in Vanderbijlpark.
An earlier report of the incident indicated that four people had died. Arrive Alive has since confirmed that three people died.
"Reports from the scene indicate that multiple people sustained injuries when a bridge collapsed, believed to have trapped people in the process," explained Herbst.
"Multiple people have sustained injuries ranging from minor to moderate, at least five people are in a critical condition and four people are believed deceased."
ER24 spokesperson Russel Meiring said when paramedics arrived on the scene, they found that the structure, which connected two buildings, had collapsed and trapped several people.
"The trapped patients were freed. Three children, aged between 14 and 17, had sustained numerous fatal injuries. Nothing could be done for them and they were declared dead," said Meiring.
He said about 15 other patients were assessed, their injuries ranging from minor to critical. Some required advanced life support interventions.
"Once treated, four children were airlifted to hospital by a private medical helicopter. The remaining patients were transported by ambulance to various facilities in the area," said Meiring.
The number of injured people are subject to change as rescue efforts continue. Many learners are believed to still be trapped in the rubble following the structure's collapse.
While Netcare911 reported that four learners have passed away, according to Gauteng Education MEC Panyaza Lesufi only three learners have been declared deceased.
Lesufi has delivered a statement from the school, calling the incident a sad day for the education sector and pledging to ensure the victims receive medical attention regardless of whether or not they have medical aid.
"Unfortunately in these kinds of incidents, law enforcement must perform their functions. It breaks my heart to see those bodies still lying there. Those innocent souls. We urge that investigations be concluded so bodies can be released," Lesufi said.
The minister said only one of the three deceased learners have been identified so far and that police are working on identifying the other two so that their families can be alerted.
The school has been closed until further notice, according to the minister.
He added that he will be travelling to various hospitals on Friday to lend the injured learners support.
Breaking News: Gauteng Education MEC Panyaza Lesufi is on his way to Hoërskool Driehoek in #Sedibeng. A walkway has collapsed, killing three learners. #HoerskoolDriehoek
See Open News's other Tweets
Parents have been advised not to contact the school, so as to keep the phone lines open, reports Vaal Weekblad.
Children that have been affected by the incident will be contacted by the school directly.
Motorists have also been warned not to travel near the school, so as to keep roads open for ambulances.
The Gauteng Province Community Police Board has issued a statement expressing their sincere condolences over the tragedy.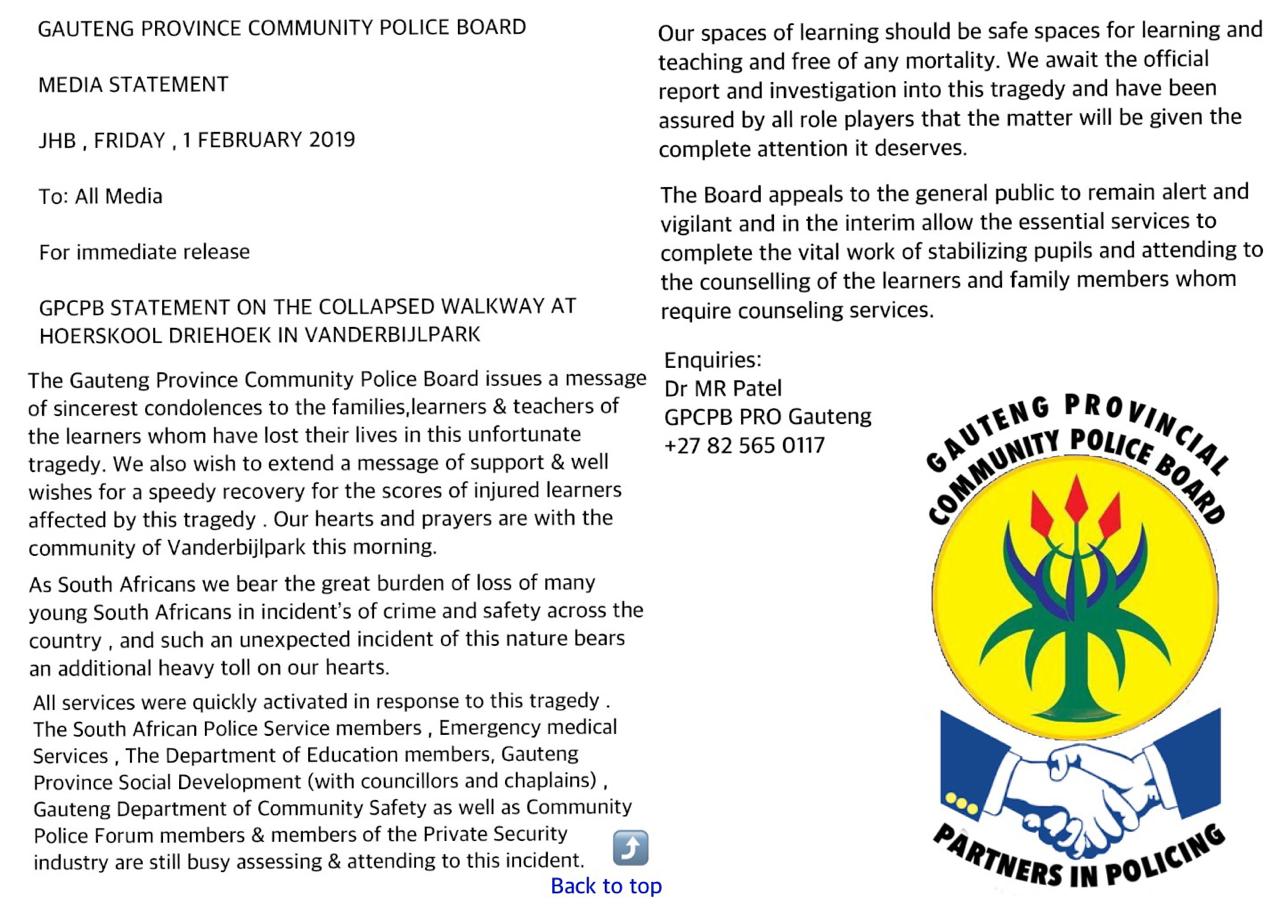 Updates to be made available as more information comes to light.
Compiled by Nica Schreuder and Daniel Friedman / The Citizen