A civil action campaign spearheaded by Noseweek is attempting to get the four big cellphone service providers – MTN, Vodacom, CellC, and Telkom – to stop what is described as the illegal charging of customers for services that is earning them "possibly billions of rands in spoils".
According to Noseweek, network providers are earning the "lion's share" of these spoils, illegally earned "in cahoots with a steady flow of shady 'third party content providers', many of them offshore".
These content providers, known as Wireless Application Service Providers (WASPS), have been "illegally charging customers for services they've never signed up for" according to a summary of the campaign.
At best, customers will receive an "opaque" SMS allowing them to opt out, although sometimes they will simply start having the money deducted from their accounts.
The campaign seeks to lobby the NPA and SAPS to take legal action against the CEOs, boards, and senior management of all four major companies "for allowing this fraud to continue".
They also want to launch a class action lawsuit so consumers can get their money back and get parliament to review legislation "governing the shady third-party providers".
"There is no written contract. Nothing is sent to your email or delivered in your post. You don't even get a reference number. All that you apparently get is an SMS – if you're lucky," the summary continues, adding that "many South Africans have no idea they are being saddled with these costs, sometimes on a daily basis".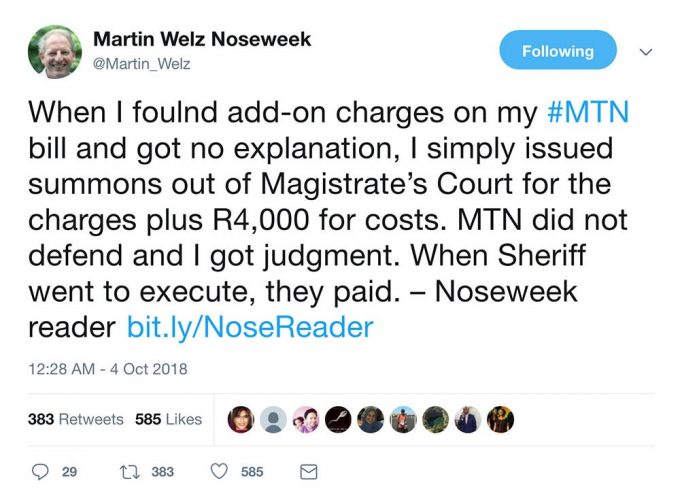 The campaign also includes a tweet from Noseweek's Martin Welz, which quotes a reader as saying that when he took MTN to court over the charges, they paid.
The media departments of all four companies have been contacted for comment. None had responded at the time of publication of this article.
More information on the campaign, as well as how to join, is available here.
Daniel Friedman / The Citizen