As of Monday, 22 June 2020, the cumulative number of confirmed Covid-19 cases in South Africa has breached the 100,000 mark at 101,590.
A further 61 Covid-19-related deaths have brought the total to 1,991.
A total of 1,353,176 tests have been completed, of which 25,116 new tests are reported, Health Minister Zweli Mkhize said in a statement.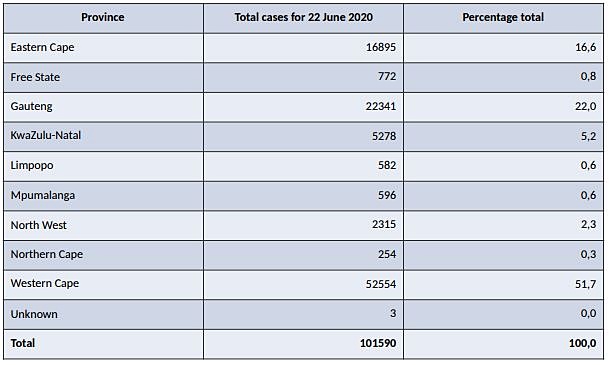 "Regrettably, we report a further 61 Covid-19 related deaths – one from Limpopo, three from KwaZulu Natal, 18 from Eastern Cape and 39 from Western Cape. This brings the total deaths to 1,991.
"We wish to express our condolences to the loved ones of the departed and thank the healthcare workers who treated the deceased," he said.
The mortality rate is 2%.
The number of recoveries is 53,130, which translates to a recovery rate of 52,6%.
The provincial breakdown is as follows: